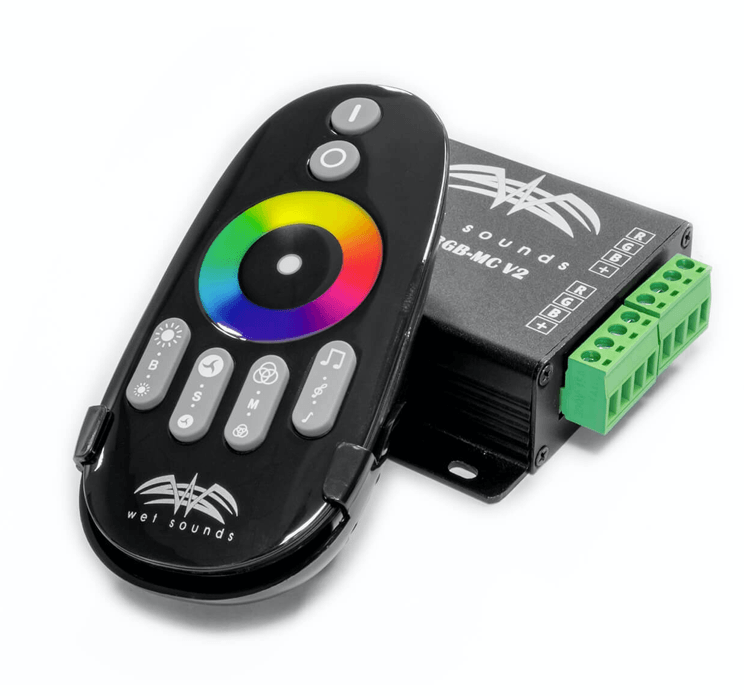 Wetsounds RF-RGB-MC V2 RF RGB Music Controller W/ Touch Activated Remote
Save

0

%
Save %
Original price
$139.99
-
Original price
$139.99
FREE GIFT WITH EVERY PURCHASE AUTOMATICALLY ADDED TO CART!
Wet Sounds RF-RGB-MC V2
Take control of your Wet Sounds LED speakers with the RF RGB Music Controller w/ Touch Activated Remote. With the Wet Sounds RF-RGB-MC V2 you can run up to 10 meters (38ft.) of led strips without a doubt. This handy remote controls your LED speakers using the most advanced PWM (pulse width modulation) remote control technology. You can choose your favorite accent color, or explore five multi-light color change modes or three music modes — you can set the mood or set the lights to react to the beat of the music. All in all, you'll find thousands of different color combinations available.
Power:

 

on
Power:

 

off
Color Wheel:

 

choose color with 

touch sensitive color wheel

Brightness:

 

rocker switch
Speed:

 

rocker switch; change the speed at which the colors change in multi-color mode
Multi-Color:

 

rocker switch; change between the six color modes

Mode 1:

 

static mode (not blinking); choose one of the seven colors (white, cyan, purple, yellow, blue, green, or red)
Mode 2:

 

blinks (sharply) between all seven colors
Mode 3:

 

fades gradually between red, green, and blue
Mode 4:

 

fades gradually between all seven colors
Mode 5:

 

single color blink; choose one of the seven colors
Mode 6:

 

two color blink; choose blue and green, blue and red, or red and green

Music:

 

rocker switch; change between the five music control modes; each varies with the beat of the music connected to the line input

Mode 1:

 

choose any one of the seven colors to blink (sharply) with the music (white, cyan, purple, yellow, blue, green, or red)
Mode 2:

 

quickly fades between all seven colors
Mode 3:

 

gradual fading between all seven colors
Mode 4:

 

red hopping, green hopping, or blue hopping
Mode 5:

 

two color mix; choose blue and green, blue and red, or red and green

Sensitivity:

 

rotary knob on receiver unit; adjusts sensitivity to the music input
Connections (receiver):
Power/Ground:

 

the removable set screw terminal accepts power and ground wires up to 14-gauge
RGB Output:

 

there are two removable RGB output set screw terminals; each accepts bare wire up to 14-gauge
Line Input:

 

the 3.5mm stereo mini-jack input allows integrating the lights with the beat of the music
Working Temp
-20C ~ +45C
 
Connection Mode
Common Anode
 
Output Power
12V (144W) 24V (288W)
 
Input Voltage
DC 12V-24V
 
Control Mode
RF Remote Control
 
Output Current
12A Max
 
Remote Power
2 AAA Batteries (Not Included)
 
Remote Range
20-30 Meters
 
Dimensions
2 1/8 x 1 x 4 3/8