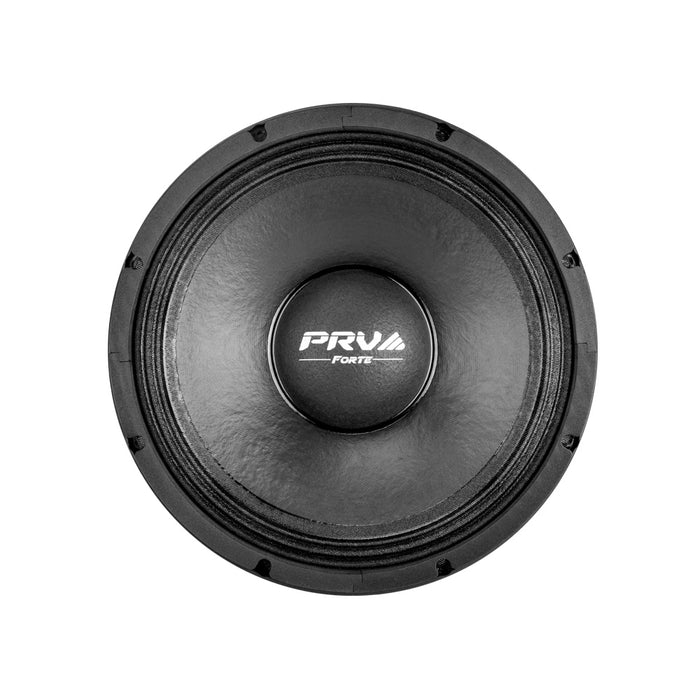 PRV Audio 12MB1000FT 12" 8-Ohm 1000W Midbass Car Pro Audio Speaker MID
Save

0

%
Save %
Original price
$159.91
-
Original price
$159.91
FREE GIFT WITH EVERY PURCHASE AUTOMATICALLY ADDED TO CART!
For high output speaker systems, PRV Audio's 12MB1000FT mid bass is an excellent option capable of amazing performance. A great new addition to the Forte Series, where more power handling and less distortion on mid low mid bass frequencies is the key.
All this attention to detail in the 12MB1000FT makes it one impressive driver. With 97.5 dB efficiency and 1000 watts of continuous program power (RMS), this mid bass is ideally suited to be used as a stage monitor, or in auditorium, touring and outdoor systems. Also, its smooth response from 70 to 3,200 Hz makes it perfect for 2 or 3-way designs.
Highlights
3″ Inside/Out aluminum voice coil wound on fiberglass former for hi-temp performance, 8 ohms
Ventilated voice coil gap reduces power compression
High Xmax for more Mid bass output
1,000 watts continuous program power rating makes high acoustical output
Excellent performance in 2-way or 3-way systems
Weather-resistant paper cone and dust cap
A rigid cast aluminum frame with narrow spokes to minimize reflections back into the cone. In addition, the frame includes force cooling system openings which allows airflow to cool the voice coil.
To drive the voice coil, a large ferrite magnet with a very precise machined top and bottom plate has been used. The additional dual forced vent in the back plate of the coil allows this driver to handle up to 1000 watts RMS without issue.
Features a special high strength pulp composition paper cone designed to achieve the best possible linearity within the middle frequency range, which, together with a protective cone treatment dedicated to enhancing the dampening properties of the moving assembly, considerably improves its smooth frequency response.
The voice coil is wound on a 3″ glass fiber with aluminum wire, keeping weight to a minimum for an incredibly quick transient response. Engineered with 19 mm of winding depth, this inside/outside voice coil provides excellent thermal and mechanical durability.
GENERAL SPECIFICATIONS
Nominal Diameter
12″ (310 mm)
Nominal impedance
8 Ohm
Nominal Power Handling*
500 Watts
Continuous Program Power (RMS)**
1000 Watts
Max Peak Power***
2000 Watts
Sensitivity 2.83V at 1m
97.5 dB
Recommended Hi Pass Crossover
For Full Power Handling
110 Hz
12db Per Octave Crossover
Frequency Response
70 – 3,200 Hz
Voice Coil Diameter
3″ (76 mm)
Voice Coil Wire
Aluminum
Voice Coil Winding Depth
19.0 mm
Former Material
Glass Fiber
Magnetic Gap Depth
10.5 mm
Frame Material
Die Cast Aluminum
*Nominal power handling is defined as the maximum RMS power that the speaker can handle in a 2-hour test with a pink noise with 6dB of crest factor and a bandpass filter with 12db/oct tuned in its usable frequency range.
**Continuous Program Power (RMS) is the maximum power that the speaker can handle considering a regular musical program using our recommended filters, this power can be used to define the optimum amplifier power to avoid a clean signal without clipping or saturation.
***Max Peak Power is the maximum power operation for the speaker, this power is allowed just for a few fractions of a second, usually found just on the peaks of the music. Keeping this power for a little longer timer will damage the speaker.
---
THIELE-SMALL PARAMETERS
| | | |
| --- | --- | --- |
| Equivalent Volume | Vas | 74.57 l |
| Excursion (mathematical)*** | Xmax | 6.87 mm |
| Free Air Resonance | Fs | 52.72 Hz |
| Mechanical Factor | Qms | 13.35 |
| Electrical Factor | Qes | 0.38 |
| Total Factor | Qts | 0.37 |
| Cone Area | Sd | 573 cm² |
| Mechanical Mass | Mms | 55.94 g |
| Bl Factor | Bl | 16.54 Tm |
| Dc Resistance | Re | 5.7 Ohms |
| Inductance | Le | 1.00 mH at 1 kHz |
| Mechanical Mass Without Air | Mmd | 48.19 g |
| Mechanical Compliance | Cms | 0.162 mm/N |
***Xmax=(Voice coil winding depth-Magnetic Gap depth)/2+ Magnetic Gap Depth/4
---
EXTRA INFO
Overall Diameter
12.40" (315 mm)
Front Mount Baffle Cutout
11.10" (282 mm)
Mounting Depth
5.20"(132 mm)
Overall Depth
5.76"(146.5 mm)
Net Weight
16.8 Lbs (7.62 kg)
Shipping Weight
18.51 Lbs (8.40 kg)
Carton Dimensions W x L x H
13.79"x 13.79" x 7.09"
(350 x 350 x 180mm)