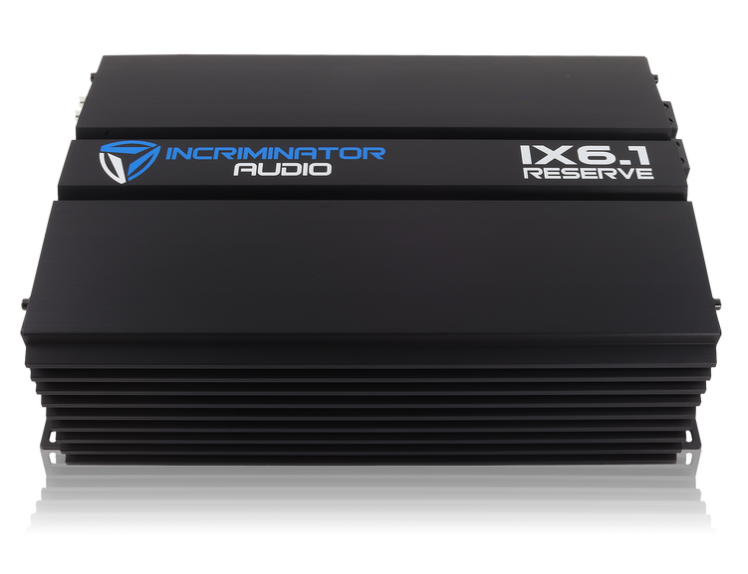 Incriminator Audio IX6.1 6000W Monoblock Amplifier
Save

0

%
Save %
Original price
$1,599.99
-
Original price
$1,599.99
FREE GIFT WITH EVERY PURCHASE AUTOMATICALLY ADDED TO CART!
Incriminator Audio IX6.1 Amplifier
In what has become an arms race in the power department, many amps are just getting a bigger part or two and hoping for the best. The team at Incriminator Audio will never take that shortcut. Especially with the all new Incriminator Audio IX6.1 Reserve monoblock, we didn't take the easy way out. Designed from the ground up, as an all new model, the IX6.1 is a direct response to what our diehard fans have been wanting. We took our time, and put together yet another proven, reliable, and durable power house using our patented Splitforce technology.
Maximized for 14 volt applications, the IX6.1 delivers a tidal wave of power, coming in at 6000 watts at 1 ohm mono. While paying its respects to its cousin, the 40.1, the all new IX6.1 Reserve retains the compact footprint, sleek looks, built in voltmeter, high quality components, and is chock full of features. That is where the similarities end. The moment you peak at the business end of the IX6.1, you will immediately realize it is dead serious when it comes to power. With a trio of 1/0 gauge inputs and grounds, you know that the IX6.1 is going to have no problems delivering on our reputation of no-nonsense mega power amplifiers. Showing just how crazy we are about mega wattage, there is even strapping connections on the IX6.1 for installs that will need more than 6000 watts.
When it comes to a pure competition install, or a massive demo build to knock your socks off, the all new IX6.1 is an outstanding choice to be the heart of your build. Give your power-hungry subs what they need for years to come with the fierce output of the IX6.1.
Please Note- This amplifier ships directly from Incriminator Audio, please allow 1-2 day processing.
Features

Digital Class-D Linkable Mono Block Amplifier
Patent Pending SplitForce Technology
Dual MOS-FET Pulse Width Modulation Power Supply
1 Ohm Stable Topology
24dB/octave - Variable State Subsonic Filter
24dB/octave - Variable State Low Pass Filter
Input Voltage Display
Heavy Duty Copper Layer Double Sided Epoxy PCB
Segmented Black Molded Oversized 1/0 Power and Ground Inputs
4 AWG Speaker Connections
Proprietary Custom Tooled Heatsink with Onboard PCB Support For Vibration Resistance
High End Silver Tiffany RCA Inputs with Metal Potentiometers
Advanced Strapping with Mirror Technology
Multi-Layer Bullet Proof Protection Circuit ( Thermal, Voltage, Speaker Short, DC)
Remote Bass/Gain with Clipping Indicator
Specifications

| | |
| --- | --- |
| Rated Power ( 14.4V at 1% THD ) | IX6.1 |
| RMS Power - 2 Ohm Linked : | 12,000W |
| RMS Power - 1 Ohm Mono : | 6000W |
| RMS Power - 2 Ohm Mono : | 3000W |
| RMS Power - 4 Ohm Mono : | 1500W |
| Low Pass Filter ( 24dB/Oct. ) : | 35Hz - 250Hz |
| Subsonic Filter ( 24dB/Oct. ) : | 10Hz - 50Hz |
| Frequency Response ( +/- 1dB ) : | 15Hz - 270Hz |
| Bass Boost ( 45Hz ) : | 0 - 9dB |
| Input Sensitivity ( Volt +/- 5% ) : | 6.0V - 0.2V |
| Signal / Noise Ratio : | 90dB |
| Dampening Factor ( 1 Ohm ) : | 350 + |
| Master/Slave/Mirror : | Included |
| Power Efficiency ( 4 Ohm ) : | 90% |
| Fuse Rating ( 14.4V ) : | 600A |
| Fuse Rating ( 14.4V Linked ) : | 1200A |
| Segmented Power Input Connection : | 1/0 AWG |
| Operation Voltage : | 8.5V - 16.0V |
| Speaker Output Connection : | 4 AWG |
| Dimensions ( Inches ) : | 10.63 W x 5.12 H x 14.96 L |
| Dimensions ( Millimeters ) : | 270 W x 130 H x 380 L |