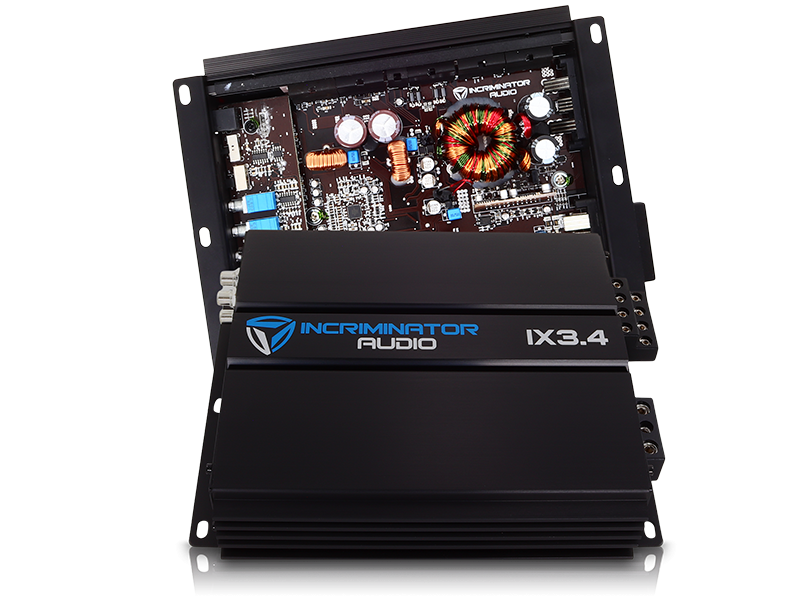 Incriminator Audio IX3.4 4-Channel Amplifier
Save

0

%
Save %
Original price
$299.99
-
Original price
$299.99
FREE GIFT WITH EVERY PURCHASE AUTOMATICALLY ADDED TO CART!
Incriminator Audio IX3.4 Amplifier
The all new Incriminator Audio IX3.4 is the new answer to compact, premium 4 channel amplifiers.  All the features of the outstanding IA 3.4 but with more power and less size, updated to the new IX series standards.  When we say compact, we are not joking around.  The new IX3.4 is trimmed down to a miniscule footprint of less than 8".  That saves you space but doesn't cut down on the traditional high quality build we are known for in our world famous amps.  
One thing you don't have to worry about is the crossovers, as we still have the same level of flexibility in the crossover network our customers have come to expect from our multi-channel amplifiers.  Which means, you will have high-pass / full range / low-pass crossover settings for both pairs of channels, as well as subsonic filter.
We didn't stop at the size, why not improve the power too?  That is exactly what we did, by bumping up the power on the IX3.4 to 100 watts x 4 channels at 4 ohm and 340 watts x 2 at 4 ohms.  The great news is the new Class-D design is very efficient and very low distortion, so you will only need a mere 50 amps of fusing for the all new IX3.4 while hearing all the right notes.  All of this adds up to an easy decision when it comes to needing a high quality, compact, flexible, and powerful 4 channel amplifier in the IX3.4.
*Please note- This amplifier ships directly from Incriminator Audio. Please allow an addition 1-2 day processing for this amplifier.*

Features

Full Range Class D Amplifier
Dual MOS-FET Pulse Width Modulation Power Supply
2 Ohm Stable Stereo / 4 Ohm Mono Topology
12 dB/octave - Variable State Subsonic Filter
12 dB/octave - Variable State Low / High Pass Filter
Flexible Crossover Multipliers X1 / X10
Heavy Duty Copper Layer Double Sided Epoxy PCB
Mirror Techology (Channel 1/2 to 3/4)
Individual Clipping Indicators
Multi-Layer Bullet Proof Protection Circuit
Wired Remote Control with Clipping Indicator

Specifications

Rated Power ( 14.4V at 1% THD )
RMS Power - 2 Ohm Mono : 340W x 2CH Bridged
RMS Power - 2 Ohm Stereo : 170W x 4CH
RMS Power - 4 Ohm Stereo : 100W x 4CH
Low Pass Filter ( 12dB/Oct. ) : 50Hz - 5000Hz ( X1, X10 )
High Pass Filter ( 12dB/Oct. ) : 50Hz - 5000Hz ( X1, X10 )
Subsonic Filter ( 12dB/Oct. ) : 10Hz - 500Hz
Frequency Response ( +/-1dB ) : 20Hz - 28,000Hz
Channel Separation : 55dB
Input Sensitivity ( Volt +/- 5% ) : 6.0V - 0.2V
Signal / Noise Ratio : 92dB
Dampening Factor ( 4 Ohm ) : 100 +
Operation Mode : Mirror CH1/2 > CH3/4
Power Efficiency ( 4 Ohm ) : 90%
Fuse Rating ( 14.4V ) : 50A
Power Input Connection : 4 Gauge
Operation Voltage : 8.5V - 16.0V
Speaker Output Connection : 8 Gauge
Dimensions ( Inches ) : 7.48 W x 2.24 H x 7.48 L
Dimensions (Millimeters) : 190 W x 57 H x 200 L