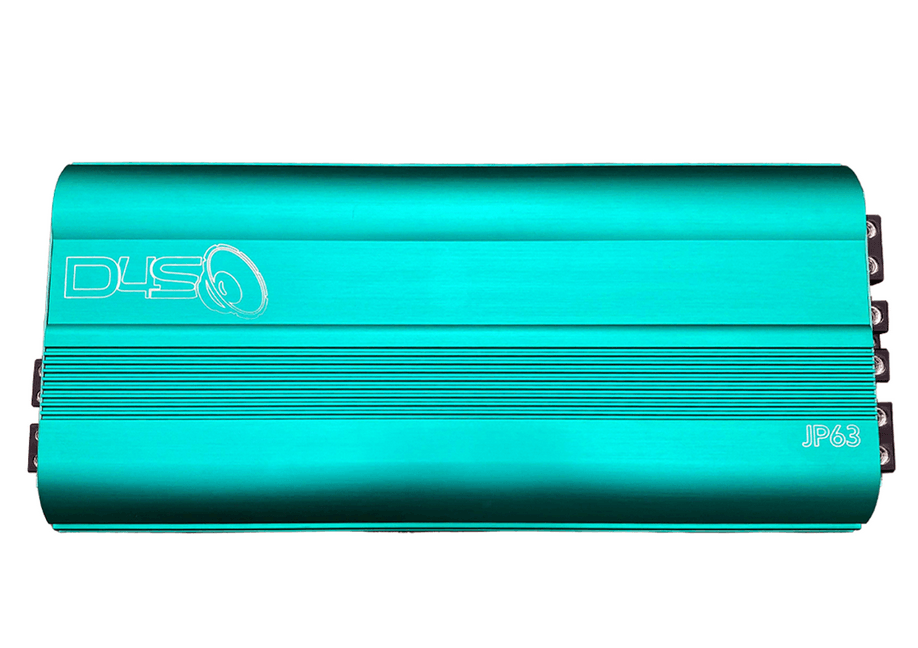 Down4Sound JP63 | 6300 WATT RMS Class D Amplifier
Save

0

%
Save %
Original price
$999.99
-
Original price
$999.99
FREE GIFT WITH EVERY PURCHASE AUTOMATICALLY ADDED TO CART!
JP 63 Amplifier: 6300W PLUS RMS MONOBLOCK Amplifier
We introduce the JP-63 , the 6300 WATT RMS (PLUS WAY more if you have a solid electrical) monoblock amplifier. It's like an 6k (6000 WATT) amplifier just with WAY more power. This 6000 watt amp is great for a serious basshead looking to bang some monterous , storm stomping bass out of their subwoofer.. REMEMBER, This isn't your typical 6000 WATT plus amplifier, we upgraded the input to 3 power and grounds, added the best RCA's true tiffany, the internal fan now stays on as soon as you turn on the amplifier to keep it cooler longer. The color is Clearwater Turquoise.
This 6000 plus watt amplifier MUST HAVE an ELECTRICAL UPGRADED INSTALLED, OR NO WARRANTY.
THIS MEANS YOU NEED A BIG 3, UPGRADED ALT, AND RESERVE BATTERY(s) to support this amplifier and any others you may have in your setup. If you do not have the proper electrical before installing this amplifier, you will not have a warranty. 
Our Ratings on Power for the JP63:
1-ohm rating: 6300 WATTS RMS 

2-ohm rating: 4300 WATTS RMS 

4-ohm rating: 2300 WATTS RMS
Other Specifications on the JP63:
Frequency response : 14Hz –269Hz
Signal to noise : 91dB
Damping factor : 480 <
Efficiency at 4ohm : 97%
Input sensitivity : 6V –0.2V
Subsonic filter : 10Hz –50Hz
Low pass filter : 35Hz –250Hz
Phase : 0 –180 degree
Strappable connection
Working to half ohm in speaker connection
Clipping indicator
Fusing: 700A TOTAL | 250A for each positive wire (3x)
BT Remote control with Voltage and Temperature display, Clipping indicator.
C type power connection for BT remote
4 ga speaker output
3 x 0ga power inputs
Operating voltage : 9 to 16 Volts.
Dimensions : 19.68 INCHES (L) x 9.37 INCHES (W) x 2.64 INCHES (H)
MADE IN SOUTH KOREA