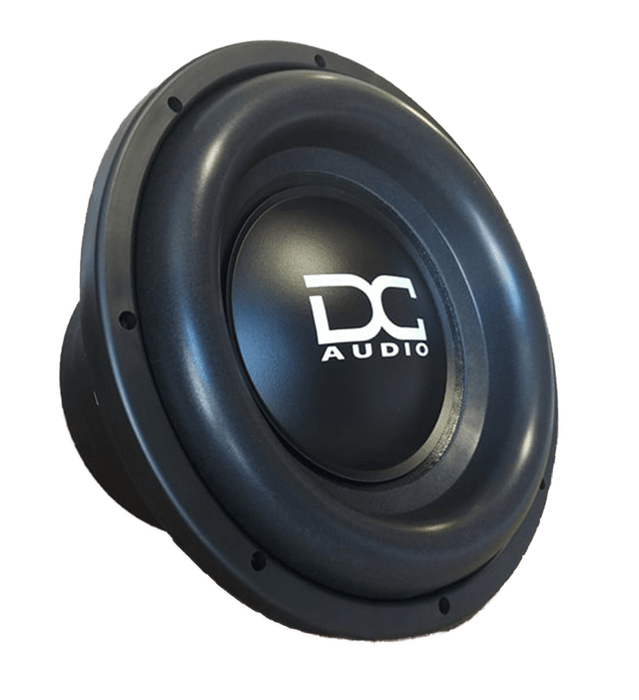 DC Audio Level 4 12" Dual-2-Ohm 1500W RMS / 3000W Peak Car Audio Subwoofer/Sub
Save

0

%
Save %
Original price
$649.99
-
Original price
$649.99
FREE GIFT WITH EVERY PURCHASE AUTOMATICALLY ADDED TO CART!
The Level 4 m3 was designed to take even more power and get even louder than the m2. With fantastic power handling and smashing lows its hard to beat.
The Level 4 sub is a large triple stacked motor with a chrome top plate and T yoke yielding 23.5mm of X-Max.
Furthermore, you get the upgraded triple progressive spiders, cone, surround, 3" coil, cast basket, push terminals and upgraded lead wire sewn to the spider. This sub is rated at 1500w RMS and 3000w peak.
| | | | | |
| --- | --- | --- | --- | --- |
| Sub Size | 10" | 12" | 15" | 18" |
| Mounting Depth | 6.25" | 6.75" | 8" | 9.5" |
| Mounting Hole Diameter | 9.25" | 11" | 14" | 16.75" |
| Outside Driver Diameter | 11.0" | 12.5" | 15.7" | 18.5" |
| Motor Width | 7.75" | 7.75" | 7.75" | 7.75" |
| Weight | 32lbs | 33lbs | 33.5lbs | 36lbs |
| VC Diameter | 3" | 3" | 3" | 3" |
| Displacement | .16³ ft | .18³ ft | .21³ ft | .26³ ft |
| Magnet Weight | 29lbs | 29lbs | 29lbs | 29lbs |
| Power Handling RMS/Peak | 1500 / 3000 | 1500 / 3000 | 1500 / 3000 | 1500 / 3000 |
| Impedance (Ohm) | D1 or D2 | D1 or D2 | D1 or D2 | D1 or D2 |
| Sd | 324cm² | 481cm² | 823cm² | 1217cm² |
| Vas | 12.42 liters | 27.38 liters | 80.16 liters | 175.29 liters |
| Cms | .085 mm/N | .085 mm/N | .085 mm/N | .085 mm/N |
| Mms | 184.5 g | 207.53 g | 318.5 g | 427.53 g |
| Fs | 40.2 Hz | 37.9 Hz | 30.6 Hz | 26.4 Hz |
| BL | 19.18 NA | 19.18 NA | 19.18 NA | 19.18 NA |
| Re | 3.82 Ohm | 3.82 Ohm | 3.82 Ohm | 3.82 Ohm |
| Le | 3.78 mH | 3.78 mH | 3.78 mH | 3.78 mH |
| Qms | 7.77 | 8.24 | 10.2 | 11.82 |
| Qes | .49 | .52 | .644 | .746 |
| Qts | .461 | .489 | .60 | .701 |
| Xmax | 23.5 mm | 23.5 mm | 23.5 mm | 23.5 mm |
| Ref SPL @ 1 watt | 84 dB | 86.4 dB | 87.4 dB | 88.2 dB |
| Suggested Sealed | .75³ ft | 1³ ft | 2.75³ ft | 4³ ft |
| Suggested Ported | 1.0³ ft | 1.5³ ft | 3.0³ ft | 5.5³ ft |
Key Features
• Extremely rigid non-pressed paper cone assembly
• Multilayered polymer foam surround
• Polypropylene dust cover with DC logo
• Triple 8" OD semi cup progressive roll spider
• Extra heavy duty interweaved tinsel lead wire sewn to spider
• Cast aluminum black frame
• FEA analyzed and optimized motor assembly – Fully CNC machined
• Rubber mounting gasket
• Chrome spring loaded push terminals
• 3" Hi-temp Aluminum voice coil wound on black anodized voice coil former