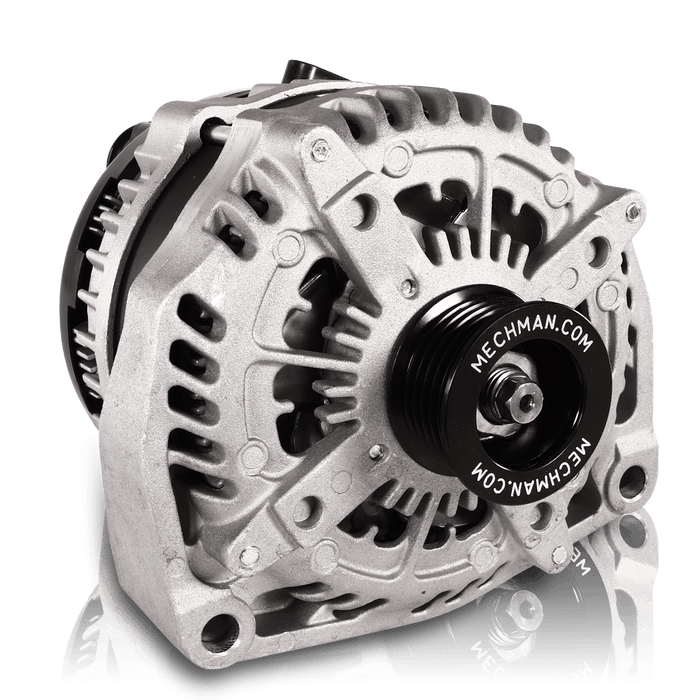 Mechman 250A Alternator For GM Truck 94-07 w/CS144 Option
Save

0

%
Save %
Original price
$419.00
-
Original price
$419.00
FREE GIFT WITH EVERY PURCHASE AUTOMATICALLY ADDED TO CART!
*Most alternators are custom built to order. Standard build time is 10-14 days.*
The Elite series 250 amp alternator offers great output at idle RPM and excellent durability in a direct-bolt-in package. 6 phase technology, combined with massive twin rectifier assemblies and 12 diodes makes these alternators totally durable for daily use, while still maintaining great output at low RPM. These alternators will make 180 amps at engine idle speeds with a full 250 amp output at cruising speeds. This unit comes with an OEM diameter pulley, making it perfect for high RPM and racing use. NOTE: This unit may require a rectangle to oval adapter harness if your vehicle was equipped with the CS144 Heavy duty charging option from the factory.
*H104 Adapter Harness will be included with all Mechman alternators for the 96-04 GM Trucks and SUVs.
Need more than 250 amps? Check out the 400A for these vehicles!
Fitment Guide:
| | | | |
| --- | --- | --- | --- |
| Make | Model | Engine Size | Year |
| Buick | Rainier | 5.3L | 2004 - 2006 |
| Cadillac | Escalade | 5.7 / 6.0 / 6.2 | 1999 - 2004 |
| Chevrolet | Astro Van | 4.3L | 1996 - 2005 |
| Chevrolet | Avalanche | All Engines | 2002 - 2004 |
| Chevrolet | Camaro | 5.0 / 5.7 | 1998 - 2002 |
| Chevrolet | Express Van w/4 pin plug |   | 1996 - 2016 |
| Chevrolet | Full Size Truck | All Gas Engines | 1996 - 2004 |
| Chevrolet | Full Size Truck | 6.6L Duramax | 2001 - 2007 |
| Chevrolet | S-10 / Blazer | 4.3L | 1994 - 2004 |
| Chevrolet | SSR | 5.3 / 6.0 | 2003 - 2006 |
| Chevrolet | Suburban | w/4 pin plug | 1996 - 2004 |
| Chevrolet | Tahoe/Full Size Blazer | All Gas Engines | 1996 - 2004 |
| Chevrolet | Trailblazer | 5.3L | 2003 - 2006 |
| GMC | Envoy | 5.3L | 2003 - 2006 |
| GMC | Full Size Truck / Sierra | 4.3L | 1996 - 2004 |
| GMC | Full Size Truck / Sierra | 4.8L | 1999 - 2004 |
| GMC | Full Size Truck / Sierra | 5.0L | 1996 - 1999 |
| GMC | Full Size Truck / Sierra | 5.3L | 1999 - 2004 |
| GMC | Full Size Truck / Sierra | 5.7L | 1996 - 2000 |
| GMC | Full Size Truck / Sierra | 6.0L | 1999 - 2005 |
| GMC | Full Size Truck / Sierra | 6.6 Diesel | 2001 - 2006 |
| GMC | Full Size Truck / Sierra | 7.4L | 1996 - 2000 |
| GMC | Full Size Truck / Sierra | 8.1L | 2001 - 2005 |
| GMC | Safari | 4.3L | 1994 - 2004 |
| GMC | Savana Van | w/ 4 pin oval plug | 1996 - 2016 |
| GMC | Suburban | w/ Oval plug | 1996 - 2004 |
| GMC | Yukon | w/ Oval plug | 1996 - 2004 |
| Hummer | H2 | 6.0L | 2003 - 2007 |
| Oldsmobile | Bravada | 4.3L | 1994 - 2001 |
| Pontiac | Firebird | 5.0 / 5.7 | 1998 - 2002 |