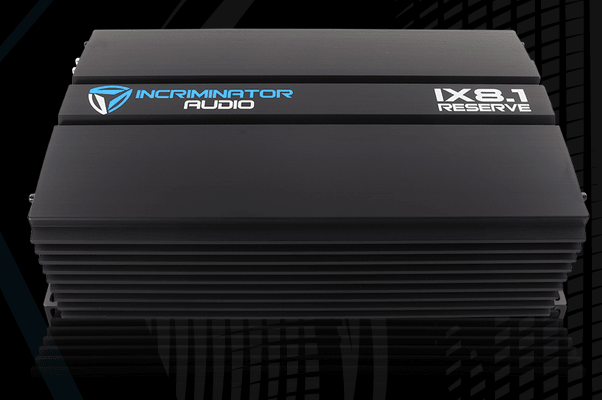 Incriminator Audio IX8.1 Reserve 8000w Monoblock Amplifier
Save

0

%
Save %
Original price
$1,949.00
-
Original price
$1,949.00
FREE GIFT WITH EVERY PURCHASE AUTOMATICALLY ADDED TO CART!
Incriminator Audio IX8.1 8000w Monoblock Amplifier
You know we wouldn't stop at just one all new, mega power monoblock. Building on all that makes the IX6.1 an extraordinary amplifier, we turned it up to 11 with the Incriminator Audio IX8.1. Keeping with paying attention to what our fans want, we are happy to introduce the pinnacle of our IX series monoblock amplifiers. Surplus wattage to go around for any kind of demanding audio build in the 14 volt world.
Taking all the features of its little brother, the all new IX8.1 is an absolute monster, delivering a whopping 8,000 watts of power at 1ohm mono, and an astonishing 16,000 watts when strapping a pair together. Triple power and ground connections, means the IX8.1 will really have the current flow to power any high power subwoofer out there today. You will have peace of mind with on-board fans and an integrated voltage meter, as well as the heat and current supply are under control.
Building a mammoth demo ride, and you need all the power for the entire wall without fear of breaking down? The IX8.1 is the premium answer to do it all. Excessive power is the name of the game with the Incriminator Audio IX8.1. Never get caught giving a demo needing more with the IX8.1 Reserve. Just make sure you have the current supply to feed the beast, and you will be able to warp glass and metal with the Incriminator Audio IX8.1 Reserve.
Please Note- This amplifier ships directly from Incriminator Audio, please allow 1-2 day processing.
Features

Digital Class-D Linkable Mono Block Amplifier
Patent Pending SplitForce Technology
Dual MOS-FET Pulse Width Modulation Power Supply
1 Ohm Stable Topology
24dB/octave - Variable State Subsonic Filter
24dB/octave - Variable State Low Pass Filter
Input Voltage Display
Heavy Duty Copper Layer Double Sided Epoxy PCB
Segmented Black Molded Oversized 1/0 Power and Ground Inputs
4 AWG Speaker Connections
Proprietary Custom Tooled Heatsink with Onboard PCB Support For Vibration Resistance
High End Silver Tiffany RCA Inputs with Metal Potentiometers
Advanced Strapping with Mirror Technology
Multi-Layer Bullet Proof Protection Circuit ( Thermal, Voltage, Speaker Short, DC)
Remote Bass/Gain with Clipping Indicator
| | |
| --- | --- |
| Rated Power ( 14.4V at 1% THD ) | IX8.1 |
| RMS Power - 2 Ohm Linked : | 16,000W |
| RMS Power - 1 Ohm Mono : | 8000W |
| RMS Power - 2 Ohm Mono : | 4000W |
| RMS Power - 4 Ohm Mono : | 2000W |
| Low Pass Filter ( 24dB/Oct. ) : | 35Hz - 250Hz |
| Subsonic Filter ( 24dB/Oct. ) : | 10Hz - 50Hz |
| Frequency Response ( +/- 1dB ) : | 15Hz - 270Hz |
| Bass Boost ( 45Hz ) : | 0 - 9dB |
| Input Sensitivity ( Volt +/- 5% ) : | 6.0V - 0.2V |
| Signal / Noise Ratio : | 90dB |
| Dampening Factor ( 1 Ohm ) : | 350 + |
| Master/Slave/Mirror : | Included |
| Power Efficiency ( 4 Ohm ) : | 90% |
| Fuse Rating ( 14.4V ) : | 700A |
| Fuse Rating ( 14.4V Linked ) : | 1400A |
| Segmented Power Input Connection : | 1/0 AWG |
| Operation Voltage : | 8.5V - 16.0V |
| Speaker Output Connection : | 4 AWG |
| Dimensions ( Inches ) : | 10.63 W x 5.12 H x 16.53 L |
| Dimensions ( Millimeters ) : | 270 W x 130 H x 420 L |