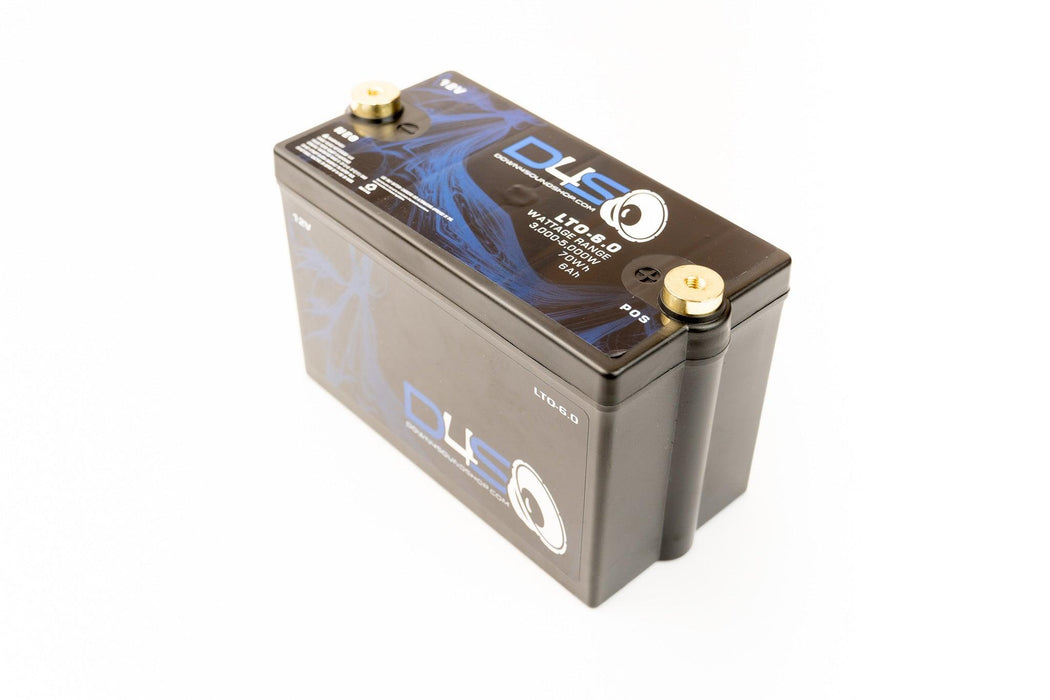 Down4Sound D4S LTO 6.0 - 12V Lithium Battery ( 3000 - 5000W )
Save

33

%
Save

33

%
Original price
$599.99
-
Original price
$599.99
FREE GIFT WITH EVERY PURCHASE AUTOMATICALLY ADDED TO CART!
Down4Sound 12-Volt LITHIUM BATTERY DETAILS
Designed to work directly inline with stock charging voltages (No voltage-boosting needed to achieve optimal results).

Can be paired with regular 12v / non-lithium batteries with no issues

14.8v Maximum Charge voltage (DO NOT EXCEED THIS OR BATTERY DAMAGE / FAILURE COULD OCCUR).

Not safe for under the hood use. Severe damage or failure could occur
Wattage Range - 3000-5000W (Depends largely on alternator input).

Example -
120-160A alternator - 3000w rating
240-270A alternator - 4000w rating
320-370A alternator - 5000w rating
CRAZY RECHARGE RATE (can take a High-Output alternator by itself with NO ISSUES).

6 Ah
70 Wh

Battery Technology - LTO (Lithium Titanate Oxide).
*We feel this is the safest lithium technology.

Built-in Balancing (No other parts or assembly needed).

Comes with conventional M6 terminals for ease of installation.

DO NOT OVER-TIGHTEN BATTERY TERMINALS!

Whether using the automotive post adapters, bolts or screws, the tightening torque should never exceed

6 ft-lbs MAX on any Down4Sound battery!

Lightweight & compact design

Weight - 4 pounds! YES, YOU READ THAT RIGHT! FOUR POUNDS!
Measurements
Width - 7"
Height - 4.75"
Depth - 3.5"
PROPER CHARGING IS CRUCIAL!
Charge before initial use, be sure to read the instruction sheet for full instructions proper charging is
crucial to the life of your Down4Sound battery. It is very important that the temperature of the battery
remains cool with respect to the charge voltage.
CHARGING
Typically the battery will ship at less than 100% State of Charge (SOC.) Please charge your new battery immediately upon receipt. For charging your 12V Lithium battery we recommend a battery charger specifically designed for lithium batteries Lithium batteries are by their very nature voltage sensitive. Further, the lithium battery is the most vulnerable to damage while charging. It is important that the charging process of the battery be fully understood and carefully controlled. Do not use a battery charger designed for "Flooded" or "Maintenance Free" batteries. Do not use a battery charger with a "de-sulfa-tion mode" or "float mode". USING THIS STYLE OF CHARGER WILL CAUSE DAMAGE / FAILURE AND VOID WARRANTY. Remove the battery charger once the battery is full meaning 100% State of Charge. Unlike lead acid batteries, over charging lithium batteries does not help them nor cause them to store more power. Instead it harms them and should be strictly avoided. Lithium cells are in a state of stress when at 100% SoC and beyond. Continuous charging must be avoided. Lithium batteries do not have a "memory effect" therefore they do not have to be empty to benefit from re-charging. Simply recharge them when convenient and avoid overcharging. In general,float charging or battery maintain-ing should be avoided. Can be charged at a rate of 60A continuous, 400A 10 sec
Recommended Charger: XS Power Li-1215